Central Mass Studios in association with Fat Foot Films & 256 Films, introduce MERCY
TAGLINE
Only for the most deserving.
SYNOPSIS
Mercedes Hollingsworth (played by Samantha Rose Valletta), a demure young woman navigating the repetitive grind of her mundane life, suddenly finds her daily routine interrupted by a mysterious stranger lurking behind every dark corner.
ABOUT THE FILMMAKERS
DAN ROSARIO/256 FILMS From producing and directing, to building sets, lighting, editing and visual effects, Dan Rosario's contributions to the projects he takes on are alway focused on creating stunning visual content. Over the past 20 years, he has produced and directed several international award winning music videos, short films and educational programs under 256 Films, a Worcester based full-service production company.
Dan's filmmaking perspective is uniquely influenced by his 33 years of Law Enforcement experience. With 28 years in the Major Crimes Division/Detective Bureau working robbery/homicide cases, he has developed a compelling writing style that draws from his real-world experiences.
FAT FOOT FILMS is a Worcester based movie and TV production company. Their films have had worldwide distribution, been the "Official Selection" of hundreds of film festivals and had numerous award winning shorts and features. In 2020 Pulse Magazine awarded them the "People To Watch" award and in 2019 their short film "STRAY" was picked up for distribution by Reveel Movies.
Currently Fat Foot Films has partnered with 256 Films and Central Mass Studios to bring to life their newest creation "MERCY". The short film is in its final stages of post production.
THE CAST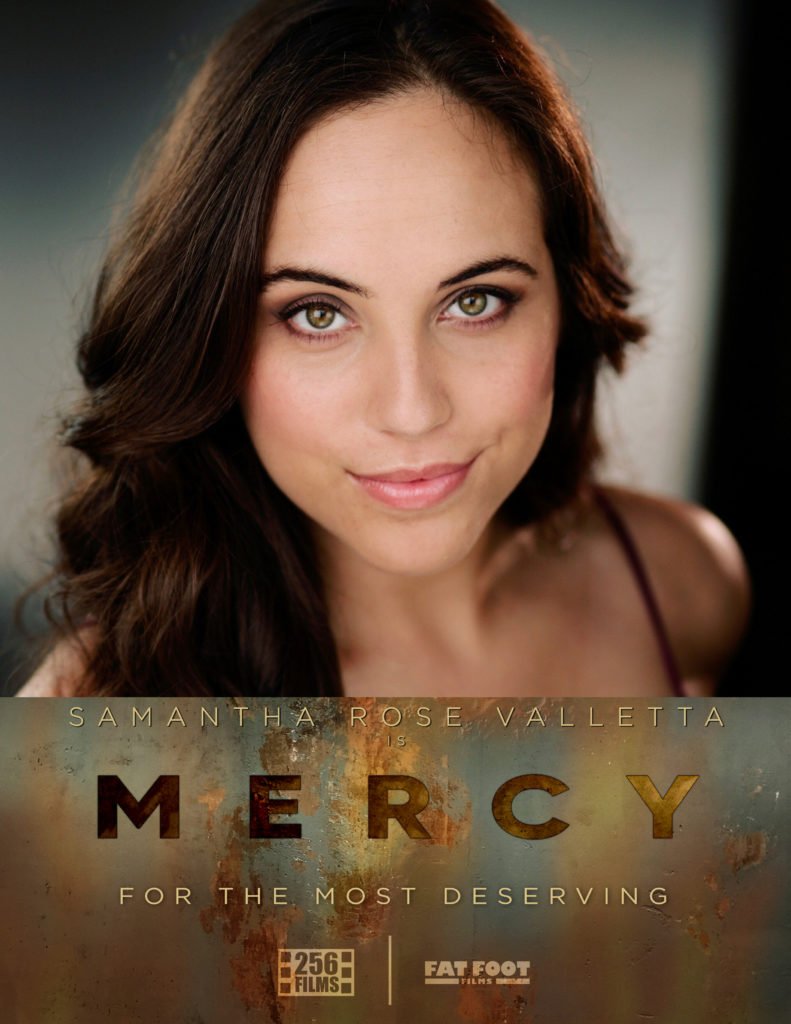 SAMANTHA ROSE VALLETTA is a Boston based actor, writer and producer. She began performing at age 3, and hasn't stopped since. Signed to the top talent agent in town, AWA, Samantha keeps busy starring in commercials, indie films and TV series. A firm believer in collaboration over competition, Samantha makes sure to always give back to the community that supports her, with her Welcome to the Industry seminar. A 2-hour masterclass designed for recent college grads entering the industry. Starring in "MERCY", an Amazon pilot and putting the final touches on her short film Earth Day, Samantha is thankful for the busy summer ahead.
DEREK MIKULA has reestablished himself as a Boston actor after 3 years pursuing his craft in Los Angeles. With bicoastal representation, he takes advantage of projects in both big and small markets across the country. Since his return to Boston, Derek's integrated himself into the indie film scene, being cast in a number of different projects from pilots to an anthology series. In addition, he's just completed his first directorial and writing debut in his short film PINCHED. He's enjoying the changes of the industry that no longer require actors to reside in big market areas and is confident in the heights that MERCY can reach.
PAUL E. KANDARIAN is a full-time actor in the Boston area who has been in a wide range of films, TV shows, commercials, educational and corporate videos, and web series, always interested in challenging roles that stretch his ability to bring various characters to life, detestable or lovable, be they hardened killers or kindly grandfathers. Range matters.
For all things MERCY, follow us on
facebook, instagram, and youtube @fatfootfilms
Or go to www.fatfootfilms.com
###