Over the past 2 years we have been apart of the Boston 48 Hour Film Project.  The 48HFP is a short film competition that starts on a Friday at 7pm at the 48HFP home base in Boston.  While there you get your assignment genre, prop, character name/occupation, and line to use for a 4-8 minute short film. Then you are off on a crazy weekend adventure of writing, shooting, editing, etc. and handing in a finished short film on Sunday at 7pm… Sleep? When we're dead!
In 2014 Dan Black (RYHP) took the reins as Director for the horror short "Devil's Creed".  We pulled horror from the genre hat and began our weekend.  We shot for 20 hours on Saturday and ran out of time to watch the final edited cut before passing it in. The first time we watched the film was in a packed theater of about 200 people.  For what it was it really wasn't as bad as we all thought it was going to be.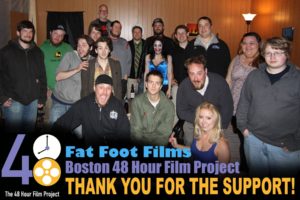 In 2015 Tom Ribiero (SCC) stepped in as Director for the comedy/horror short "Best Man". Again we had an angel watching us because we pulled comedy from the genre hat.  That year we decided to write a few scripts before hand to get a jump start on the weekend, which honestly in the end hurt us more than helped us.  We ended up spending a whopping $3000 on the project after building an entire set for the basement scene.  The project was shot on the Canon C300 so it looked marvelous on the big screen.  That year we had enough time to watch the finish product and even added an animated monster!
Every year Fat Foot Films looks forward to working on this project, meeting new people and pushing our selves to the absolute limits, mentally and physically. This year Ryan Convery will be Directing and he has put together one hell of a creative team Ed Gutierrez, Erik Johnson, Merri Phillips… to name a few.  The Boston 48 Hour Film Project will be the weekend of May 13-15 and we are super excited to be doing this once again!
The last 2 years we put together a fundraiser campaign in order to help us fund the 48HFP weekends (watch those ridiculous videos below).  This year we decided WHO NEEDS MONEY?  Not us!
Seriously, if you do want to donate money to contribute to this years project please donate!  This goes to feeding the cast and crew over the 3 days, props, and production rentals.  Any and all donations will receive an end credit on this years 48HFP and THANK YOU!
"BEST MAN" 2015 – Genre COMEDY, prop ICE, line "THIS IS THE FUTURE", character WORDSMITH
"DEVILS CREED" 2014 – Genre HORROR, prop DIARY, line "IT IS WHAT IT IS", character TEACHER
The Behind the Scenes Making of "Best Man"
2015 Fundraiser Campaign – $1035.00 Raised
2014 Fundraiser Campaign – $560.00 Raised