Saturday, Nov. 2nd from 3-5:30pm at the Elm Draught House Cinema, 35 Elm CT, Millbury, MA
Fat Foot Films presents an evening of fascinating short films ranging from outrageous comedies to blood splattering horror, music videos, trailers and much more.  We will also be celebrating the release of our 2014 Looks That Kill Calendar and as an added bonus we will be showing a clip from our next full length feature "How I Dumped My Ex-Boyfriend's Body".  After each short film there will be a Q & A with the Directors, Actors and Crew. Only $5 at the door and did we mention BEER, WINE and FOOD will be served too!  So come on down and check out what local film is all about!
TO KEEP UP TO DATE ON THIS EVENT PLEASE CONFIRM AT THE FACEBOOK EVENT PAGE
The 2014 Looks That Kill Calendar release party will be that night at the Lucky Dog Music Hall in Worcester, MA.  So come down and get your calendar signed by the LTK Girls and see the amazing Rob Zombie/White Zombie tribute band American Hellbilly, also playing The Dead And The Damned, Lesions and our favorite Hellitosis.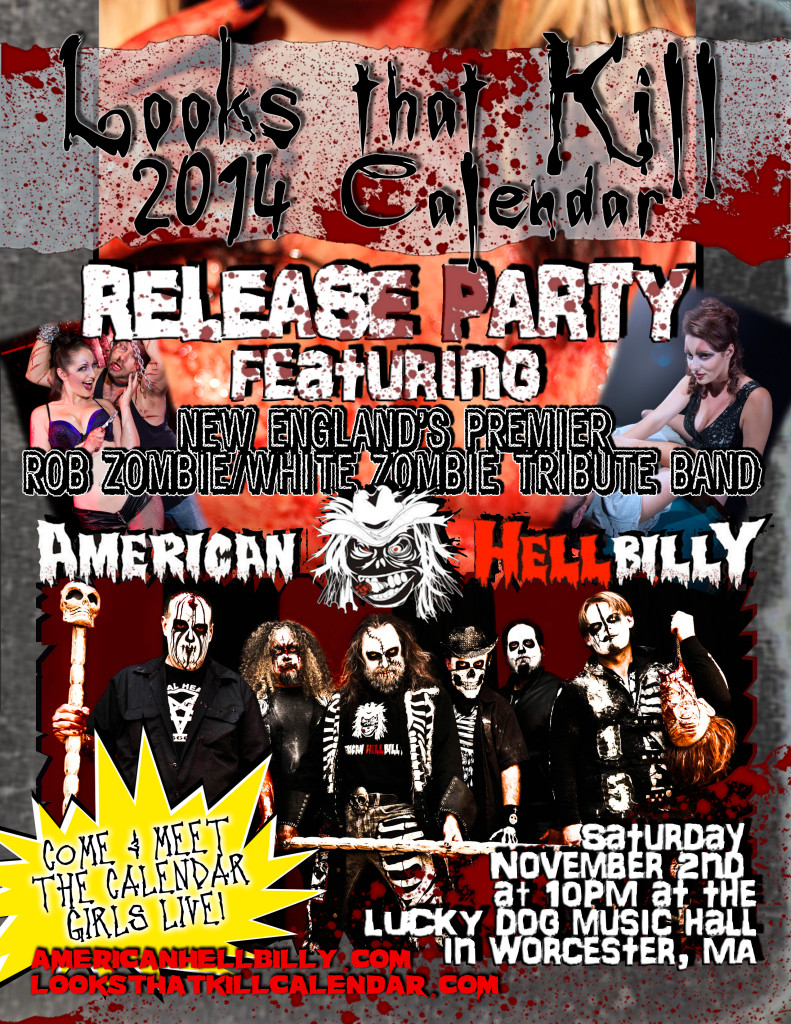 Shorts playing at A Fat Foot Films Festival:
FIGHT SCENE
Professional stuntman Jim Ford (Knight and Day, The Surrogates) helms this perilous martial arts style short film about a man whose car breaks down in a bad part of town.  When he decides to walk home, he encounters some ebullient street thugs who get in his way.
Fight Scene has won awards for Best Thriller – Mexico Int. Film Fest; Remi Winner – Worldfest-Houston Int. Film Fest; Winner – Moondance Int. Film Fest and has been selected in over 15 film festivals from Budapest to Hawaii.
THE COMMITTEE
The U.S. had just slipped out of the umbilical fluid of nationhood. While great men made history by drafting the constitution, those who were purposely left out, decided to make their own, unique contribution. The men of the Proper Usage of Selective Slang for the Youth Committee take it upon themselves to free up the minds of future generations from having to worry about creating names for bizarre sexual situations.
UNPRETTY
Maggie is an overweight teenage girl who is the center of every joke in school. The constant bullying and torment has caused her psyche to begin to break.  Becca whose antics have caused her to be on the brink of expulsion is forced by the Principal to become friends with Maggie.
Can Becca save Maggie's crumbling mind, or will her new "friend" just help prove that deep down we are all a little unpretty?
THE CROOKED MAN
A small town legend has been resurrected to snatch up lost children. The Crooked Man lives deep in the woods in a crooked shack where he traps the souls of his victims. When her twin brother Danny is taken Sam and her friends seek out the shack and attempt to rescue him.
In the mold of 80s movies like "The Goonies" and "Monster Squad", the "Crooked Man" is a short film for the young teen audience that provides drama and scares.  The Crooked Man took 1st place at Carnival: A Night Of Wonder Film Festival