Here it is the Official Movie Trailer for our next full length feature "How I Dumped My Ex-Boyfriend's Body".
Fat Foot Films will be celebrating the world premiere of "How I Dumped My Ex-Boyfriend's Body" at the Elm Draught House in Millbury, MA on Saturday, June 7th. Doors will open at 2pm and the movie will start at 3pm.
After the movie there will be a Q&A with cast and crew. Food, beer and wine are served in the theater and there will also be an after party immediately following the show (venue is to be determined). The movie is unrated and is definitely not for children!
Because of the over whelming amount of people attending the show we are offering pre-sale tickets.
To purchase the pre-sale tickets please click HERE!
This is a will call so when you arrive at the venue just show a valid ID and the tickets will be waiting for you and your party.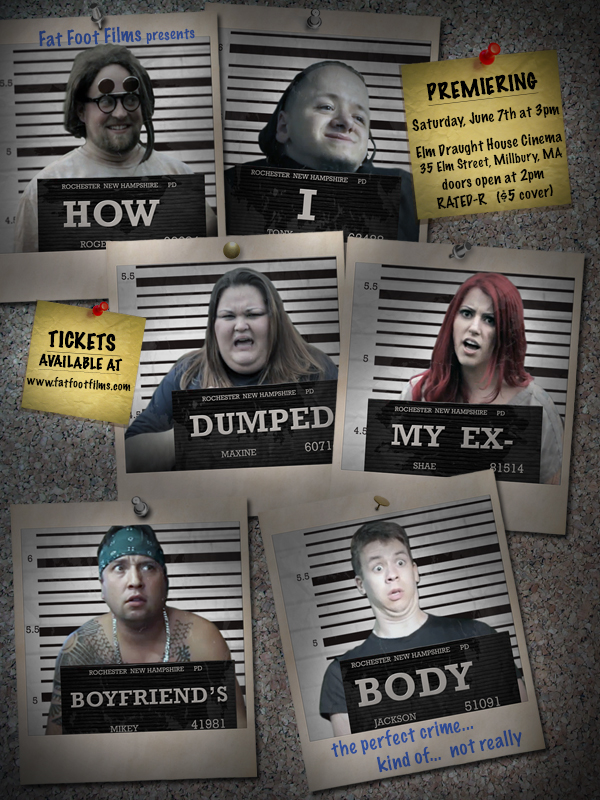 Fat Foot Films presents,
"How I Dumped My Ex-Boyfriend's Body"
TAGLINE: "The perfect crime …kind of …not really"
SYNOPSIS: Maxine and Shae have been best friends since grade school, so when Maxine accidentally kills her boyfriend she naturally asks Shae to help her cover up the murder. After multiple failed attempts the two decide to bring in a professional to clean up their mess, but he turns out to be nothing like they were expecting. Maxine and Shae will have to make it through the day by avoiding the police, fending off nosy neighbors, and surviving a wrathful mobster all while pushing their friendship to its maximum limits.
Starring
Meredith L. Phillips as Maxine
Vanessa Leigh as Shae
Ezra Brown as Jackson
Erik Johnson as Roger
Ed Gutierrez as Mikey
Pat Tierney as the Ex-Boyfriend
and introducing Josh Pineo as The Fixer