On Friday, October 28th from 7-10pm at The Sprinkler Factory 38 Harlow Street Worcester, MA. The Worcester Film Festival presents "An Evening With Fat Foot Films".  They will be showing our never before seen short films "TEST DRIVE" and "MUSTACHE BRIGADE" preceding our latest feature "HOW I DUMPED MY EX-BOYFRIEND'S BODY".  It's a 5$ donation at the door and immediately following the showing there will be a Q&A with the cast and crew.
FOR FACEBOOK EVENT PAGE CLICK HERE!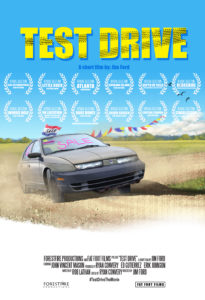 Watch the video below to learn all about our latest short film.
SYNOPSIS: Ryan, Ed and Johnson take you on a behind the scenes look at Test Drive and show you how we literally flipped a car.  Stuntman and Actor Jim Ford and John Mason created one of the greatest car stunts and in this video we show you how we did it.
Mustache Brigade is a new web series coming out in 2017.  We will be premiering one of the episodes at the showing entitled "Let's Spice It Up!"
Watch the tester trailer below.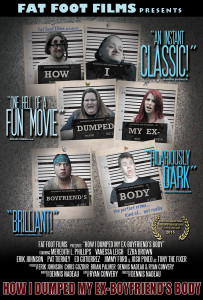 "How I Dumped My Ex-Boyfriend's Body" – is a crowd favorite that's for sure!
"Not your typical deadbeat comedy." -Boston Independent Film Review
"This movie genuinely rules." – Worcester Magazine
"This film is an instant classic!" – B-Movie Avenger
"One hell of a fun movie!" – Rogue Cinema
"This film is what separates indie films from mainstream trash." – Wicked Channel
"Mind blowingly funny!" – The Movie Guru
SYNOPSIS: Maxine and Shae have been best friends since grade school, so when Maxine accidentally kills her boyfriend she naturally asks Shae to help her cover up the murder. After multiple failed attempts the two decide to bring in a professional to clean up their mess, but he turns out to be nothing like they were expecting. Maxine and Shae will have to make it through the day by avoiding the police, fending off nosy neighbors, and surviving a wrathful mobster all while pushing their friendship to its maximum limits.