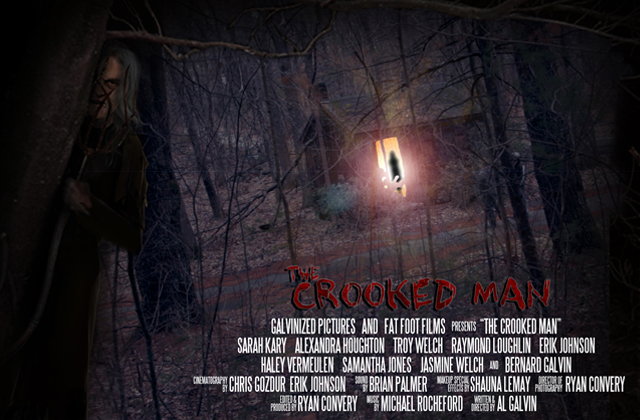 Fat Foot Films and Galvinized Films has joined forces to produce a short film thriller called "The Crooked Man" to be released this October.
Synopsis:
A small town legend, similar to the Boogeyman, has been resurrected to snatch up lost children. The Crooked Man lives deep in the woods in a crooked shack where he traps the souls of his victims. When her twin brother Danny is taken Sam and her friends seek out the shack and attempt to rescue him.
In the mold of 80s movies like "The Goonies" and "Monster Squad", the "Crooked Man" is a short film for the young teen audience that provides drama and scares.
Written & Directed by: Albert Galvin
Starring: Sarah Kary, Alexandra Houghton, Troy Welch, Raymond Loughlin, and Bernard Galvin.
Supporting Cast: Samantha Jones, Haley Vermeulen, Jasmine Welch, Shauna LeMay, and Erik Johnson as Uncle Pat.
Composer/Original Music: Micheal Rocheford
Director of Photography/Editor: Ryan Convery
Galvinized Films is a newly formed production team by brothers, Albert and Bernard Galvin. They are currently producing their first short film entitled "The Crooked Man" in collaboration with Fat Foot Films.
Albert Galvin studied TV and Film Production while attending Worcester State University, and has completed workshops in Writing and Directing with the Boston Film Foundation.
Bernard Galvin has been acting in both theatre and independent films throughout New England for over 10 years.
Galvinized Films is also forming the new Worcester Film Festival in central MA with the intention of showcasing and networking independent films at various locations throughout Massachusetts.