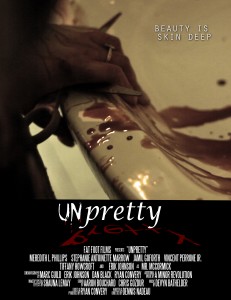 "Unpretty" – Beauty is Skin Deep
Maggie (Meredith L. Phillips) is an overweight teenage girl who is the center of every joke in school. The constant bullying and torment has caused her psyche to begin to break.  Becca (Stephanie Antoinette Marrow) whose antics have caused her to be on the brink of expulsion is forced by the Principal to become friends with Maggie. Can Becca save Maggie's crumbling mind, or will her new "friend" just help prove that deep down we are all a little unpretty?
Fat Foot Films has teamed up with first time Director Dennis Nadeau to produce his vision "Unpretty".  We would like to thank everyone that help make this project come to life. "Unpretty" will begin the film festival circuit this fall. Movie stills and a trailer will be released soon.
Starring:  Meredith L. Phillips, Stephanie Antoinette Marrow, Jamil Goforth, Vincent Perrone Jr., Tiffany Howcroft and Erik Johnson
Written & Directed by Dennis Nadeau