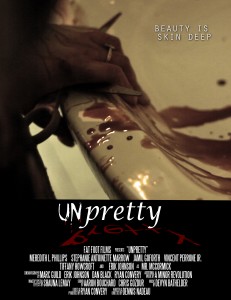 Fat Foot Films "Unpretty" is the official selection of this years Rock and Shock Film Festival. On Sunday October 14th at 1:30pm at the DCU Center in Worcester, MA (Film Festival is on the Second Floor)
Synopsis:  Maggie (Meredith L. Phillips) is an overweight teenage girl who is the center of every joke in school. The constant bullying and torment has caused her psyche to begin to break.  Becca (Stephanie Antoinette Marrow) whose antics have caused her to be on the brink of expulsion is forced by the Principal to become friends with Maggie. Can Becca save Maggie's crumbling mind, or will her new "friend" just help prove that deep down we are all a little unpretty?
Join the cast and crew at the Fat Foot Films vendor booth all weekend long we will be there Friday 5-10pm, Saturday 11-9pm, and Sunday 11-5pm.
Did I forget to mention we will be giving away an iPad 2!  For anyone that purchases Mourning Wood on DVD you are automatically entered to win.  This deal is going on now till Halloween, so don't wait!
We will also be unveiling for the first time anywhere the official Mourning Wood T-Shirts. (A little sneak peak to the right for you viewing pleasure.)
Also it is the best month of the entire year OCTOBER!  Miss October from the Looks That Kill 2012 Calendar.