"Your God Cannot Save Me…" By Shauna LeMay of Pick Your Poison Makeup and Hair
Back in the beginning of October, my good friend Siren, who also is a model (and a fantastic one at that), happened to mention she wanted to have a play date, aka a photoshoot. Now, every time she gets to have a playdate, she's always made up to be pretty. If you know Siren, she's a metal head at heart. So she propositioned me to do a demon style shoot. Of course I said yes, I'd be crazy if I didn't.
Anyways, October is hellish for myself and the Fat Foot Films crew, with conventions, special effect makeup gigs, parties and rock shows; Halloween is our Christmas. To say the least, we were at a loss for a spare moment to take a piddle, never mind a shoot.
Last week, I was feeling pretty shitty, and needed a little gore in my life to bring to get me out of the dark. And in walks the opportunity to get the creative juices flowing, thank you to Thanksgiving's long weekend.
Though we had no wardrobe (we tried a cellophane dress, which was fantastic if you didn't move), we ended up with black boy shorts and an ace bandage shirt, and it worked perfectly.
Throughout the few days prior to our Friday-full affair, I had somehow concocted this makeup idea without even really thinking too hard. I kind of had the demons from "Constantine" in my head, but I liked the idea of the black tar look from the film. The prosthetic brow pieces were made out of gelatin (yes the kind you eat) and built onto Siren's face with latex, and her cheekbones were built up with latex and facial tissue. Voila!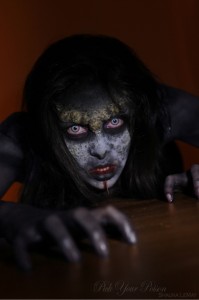 Now, I'm not the kind of photographer that is really into hardcore editing, so when it came to playing around with the photos, we just fixed the exposures (we used a flashlight, cellphones and a lamp-we forgot lights!), bloodshot the eyes/contacts and fixed a few photo-bombs. The harder work you put into the set, the less you have to do in post.
And of course I have to thank my talent and mini crew for helping me make such badass photographs! Special thanks to Leah Siren, Ryan Convery and Drew Barker.
Photography by Shauna LeMay
Model: Leah Siren (Special thanks to Drew's Arm)
Special Effects Makeup & Photoshop Work by Shauna LeMay & Ryan Convery
Lighting: Drew Barker & Ryan Convery